We would like to introduce you to Charlie! He is our Mama's GrandDog! He belongs to Mama's stepson. Isn't he just the cutest?? He was adopted from an animal shelter and the people who had him before did not treat him very nice.
That is all changed now because Benj and Sue love him very much and he has three college kids to play with too! We should also mention that Charlie is a Shitzhu / Poodle mix...or Pooshi!
We gave him a little blue elephant, some dental sticks and some chicken meatballs! He loved them!
Oh! And he had his very first spa treatment and he wasn't even afraid...he did great! What a friendly little guy!
Xoxo Chloe and LadyBug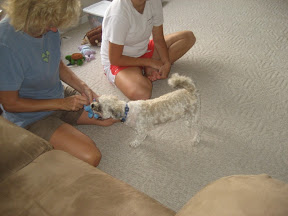 - Posted using BlogPress from my iPad